– Start Your Dreamgirl Journey Now –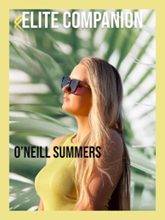 Perhaps this is your first time looking to have a lovely date with a companion, or possibly you have been disappointed before. The escort world is just like the real world. You'll find the good, bad, and ugly. When it comes to having a sensual date, you shouldn't settle for anything other than extraordinary. Just because you deserve it! Let me share my thoughts on how to make sure you end up having an unforgettable night of fun and mind-blowing sex with your dream girl.

I'm writing this blog with the purpose to help you steer clear of frustrating and costly disappointments, not uncommon in the world of prostitution and sex workers. When you book an escort:
How sure are you that the girl at your door is indeed the girl on the pictures without requiring you to stretch your imagination?
How sure are you that she can connect with you from a language, intellect, and social perspective?
How sure are you that she will be sensual and passionate, take her time with you as opposed to being indifferent, quickly doing her thing and then appear eager to leave, perhaps for another booking?
How sure are you that she does at all what she may have featured as her services?
I get it; if you're horny, in need of an immediate booking and want instant 'satisfaction' you may be fine with any/most girls at your door. But for those who are at least somewhat more discerning, this blog is for you.
Your Dreamgirl Journey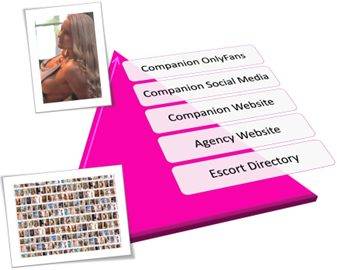 'Oh no, I'm boggled with roadmaps and processes at work' No worries, this should be fun! Take these naughty steps and feel the anticipation fuelling your desires. I'll take you through step-by-step to take you from the huge crowd of escort girls to the pinnacle, your coveted dream girl. If you want a short-cut to a guaranteed good time of mind-blowing intimacy and intense pleasure, go to my booking page 😘
Are you ready for the first step? Let's go!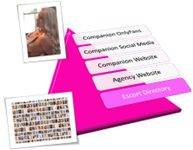 Escort Directory
Checking out some of the hundreds of online escort directories is a certainly a fine place to start. Well known examples where I'm featured as well are Tryst.link, EuroGirlsEscort, 22Burlington, CityOfLove. Between the thousands of girls featured there, there must be someone who catches your eye. You can see a few photos (oftentimes with her face blurred), read a short bio, go through a list of standard stats and possibly an indication of the services she offers. You should note that a 'VIP' label or top position on the chart is typically a charged privilege offered by the escort directory site; a way to amplify the girl's advertisement and get noticed among the hundreds or thousands of girls on a typical escort directory site. Be aware that your dream girl may not do that or only some of the time. Set your preferred features and characteristics (filters) and have fun perusing your filtered list and go well beyond the girls who happen to be featured on top or as VIP at that moment.
When you think, you found your girl, be aware that you are still at the bottom of the pyramid. The most crowded, busiest place of all in terms of the good, the bad and the ugly.

You will have certainly noticed that the one profile picture is even more fashion model glamourous than the other. How do you know what is real these days? How certain are you that the lady matches in real life how she is featured on the photo?
What do you know about her approach for these dates? As many bookings as she can get, even as many in one day or does she set a select amount of time aside for exclusive bookings?
Do you know if you can talk with her in a language you have in common?
What information do you have to think that you will likely have a click with her from a social or intellectual point of view?
If none of these things really matter to you, you should jump on it (no pun intended 😉). But if these points are important to you, I suggest you take it a step further.
Does the lady of your choice (thus far) reference a website of the agency she works for, or does she have her own website? Time for the next step on Your Dreamgirl Journey; go check it out!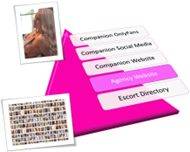 Agency Website
You will probably at least be a little overwhelmed when you're searching for an escort agency to your liking. The number of escort agencies can be daunting (with once again the good, the bad and the ugly) and many of them don't necessarily help you with the unknowns previously described. Many care more about volume (featuring lots of ladies for lots of bookings) than trustworthiness, quality, and genuine service. It is therefore important to do your homework and find an agency with a stated philosophy that appeals to you. By adhering to this philosophy, the agency will work with ladies that meet this philosophy which is helpful in your search to your dreamgirl. I suggest you look for clues about how the agency values, respects, and protects their girls. Imagine a girl coming your way who doesn't feel valued, respected, and protected by her agency? Will she be passionate, fully tuned in with you or will you have a routine experience characterized by indifference, lukewarm at best?
In the Netherlands, I know several escort agencies who feature a high-class, elite companion service standard and who place special care in selecting their models, such as Upclass International, Pink Sheets, Dreams and Desires, Vialet Escort Service, Khloe Consultancy, Secret Agents, etc.
When you have landed on an agency you like and trust, you'll likely easily find your way to the gallery of escort models. The drawback here, once again, is that it is difficult to learn much more about these ladies beyond their lovely gallery of no-doubt glamour model pictures, a high-level bio, and the basic stats. These websites usually tell you a lot about the agency; but are relatively light on really getting to know the lady you may be attracted to. The better agencies do offer you the opportunity to call them so that they can help you find a good match. It is then up to you to trust whether they genuinely propose your best match or the lady who happen to be available.
If in doubt, I suggest you take the next step on Your Dreamgirl Journey, checking out companion websites.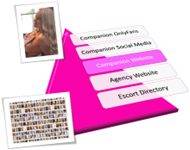 Companion Website
The next step in Your Dreamgirl Journey is a website fully devoted to the girl who you may be interested in, just like my website: www.oneillsummers.com 😘
The ladies who feature their own website are typically independent escorts who you will find through one of the many Escort Directories listed earlier, via your favorite search engine (like Google, Firefox, DuckDuckGo, etc.) or via their social media channels (Twitter, Instagram, etc.).
Rather than neatly fitting in the tightly scoped template of an agency website, the companion website is the original idea of the lady herself. The look and feel and content can tell you a lot about her.
Her bio goes well beyond what you would typically find on an escort directory or agency website. Her photo- and/or video gallery features original shoots she thought of as opposed to a standard uniform shoot and background you'd typically find on an agency website. Especially look to see if the lady in question writes blogs, a nice bonus way to get to know the person and get a sense of her personality, intellect, and finesse.
Her website likely gives you more information about what a date with her would be like, things she likes or not, etc. You may be able to sign up for a newsletter and of course, it lists a way to book your date or get in contact with her directly for any remaining questions you may have.
You're looking for a lovely intimate meeting with the girl of your dreams and visiting a companion's website brings you a lot closer to the lady in question and perhaps is convincing enough to request a date on her booking form. That is great, but make no mistake, it is not too difficult to design a slick website with polished glamour shots that sends you over the moon.
You know what they say if it looks too good to be true. There is a way to know so let's take the next step in Your Dreamgirl Journey; check out her social media channels.
Companion Social Media
The advantage of checking out your coveted escort girl's social media channels is that she is normally featured outside of the polished, groomed environment of her website, or the escort directory or agency website.
Look to see if your dreamgirl gives you a real glimpse into her life and spontaneous thinking on her social channels so that you can experience at least a little bit of the personality of the person behind that pretty smile. Some of the most wonderful dates I have are with guys who have followed me on my social media accounts for some time.
If you're interested, here are my social channels:
TWITTER: https://twitter.com/ONeillSummers1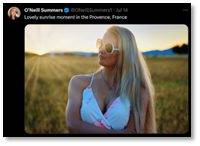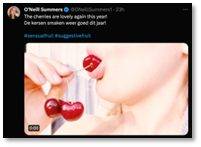 INSTAGRAM: https://www.instagram.com/oneillsummers/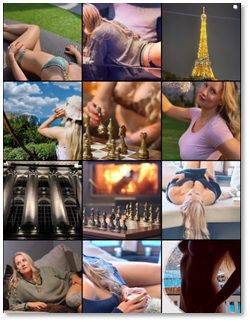 Perhaps it should tell you something if your coveted girl features nothing more than the same polished pictures and information that you already saw on her website or directory/agency page.
Social media channels are wide open public platforms with restrictive guidelines. What if you could have an exclusive look at your dream girl and see more of her and have a more privileged view into her life? If you didn't have fun on this journey yet, you should be good now: it's time to take the next step on Your Dreamgirl Journey: check out her OnlyFans channel.
Companion OnlyFans
OnlyFans is a subscription service allowing content creators to feature their content for paying subscribers. There are other platforms like OnlyFans that your coveted dreamgirl may be on such as JustforFans, Patreon, Fansly, Fanvue, Loyalfans, Fanplace, Fancentro, etc. Usually, she should have it listed on her website or social media channels so that you can easily find her there.
The monthly fee is typically a marginal amount for highly exclusive, more explicit content. If you're planning on spending money on a high-class/elite escort date, signing up for one month on your coveted girl's OnlyFans channel is a very small price to pay to be convinced that you'll be seeing your dream girl soon.
Why is checking out an OnlyFans channel an important step in Your Dreamgirl Journey? When subscribers pay for content, the girl must post new stuff all the time or her followers will get bored. As an example, I opened my OnlyFans channel in December 2021 and I have since posted over 700 pictures and over 100 videos: nearly 1,5 media posts on average per day! At that rate, these can't be polished or overly produced and will therefore give you a genuine look at your coveted dreamgirl and an exclusive view into her life.
Here a sample of what I posted on my OnlyFans channel during winter 2022/2023: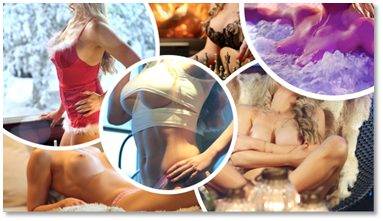 What is my opinion about escorts blurring their face?
I publicly show my face in the Escort Directories I'm listed on, my website, my social channels and my OnlyFans channel. I didn't take that decision lightly because it is obviously a vulnerable thing to do. It helps you to either choose me, or not, either way is great. Please note that I respect the many women who keep their faces blurred instead, even though it makes your decision a little bit more difficult. When you have a lady in mind who blurs her face, I would say that it makes Your Dreamgirl Journey that much more important. She may indeed be the lovely lady you think she is, but it's up to you to find out more, and if there isn't much more to find … to either guess right or wrong … or pivot to a dream girl you feel more certain about.
Reaching the Pinnacle
We have reached the pinnacle of the pyramid! We went from the mass of escort girls, directories, and agencies to the single lady of your dreams. Not infrequent, guys who follow Your Dreamgirl Journey all the way to my OnlyFans channel tell me that they are in love! And I love it because we have a higher chance of a good click, things to talk about that he saw on my social media or OnlyFans channel … I know that we will have a splendid time together. It never fails!
I selfishly hope, of course, that your journey leads to me, but if not, I wish you a lovely time with your coveted dreamgirl. Either way, I would love to hear from you to learn if this helped you find her.
Take Your Dreamgirl Journey!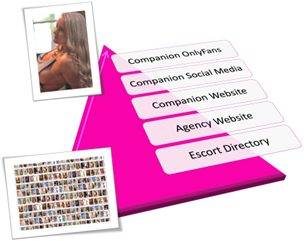 About the author
O'Neill Summers holds a business degree and maintains a flourishing professional accounting career while setting aside a select amount of time to offer exclusive high-class independent escort services for distinguished gentlemen in Amsterdam, other parts of The Netherlands as well as Fly Me To You (FMTY) arrangements globally. She holds recognised fitness and health coaching certificates and has first-hand (no pun intended) experiences working as a massage therapist at a premium spa & fitness facility in a 5-star hotel in Austria. Her premium incall apartment may well be one of the most exclusive locations for unforgettable GFE dates featuring a modern luxury interior, panoramic high-rise sunset views over the city skyline, a 'therapy' room with height-adjustable heated massage table and last but not least … a Tantra Chair / Kama Sutra Sofa for enhanced love making.