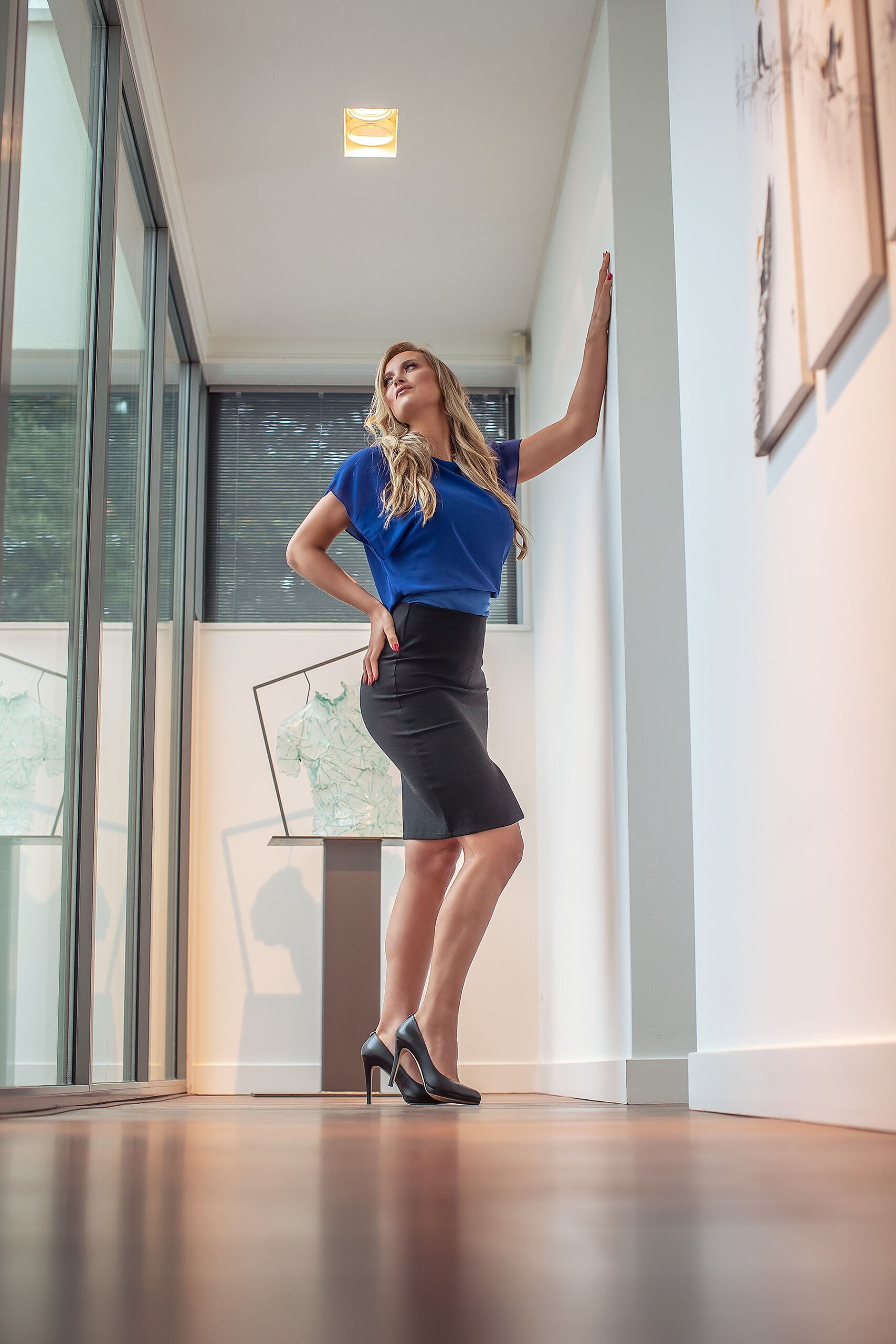 Rules
O'Neill loves spending time with someone special like you. But in order to make this possible, we will need to secure her safety, well-being and discretion, just as much as yours. We therefore need to get a few rules out of the way to make sure that your time with her can truly be a lasting memory of pleasure and joy … and hopefully one that you'll both will want to repeat!
What you see is what you get
O'Neill is a recognised model with a successful career. She goes to great lengths to give you the assurance that you have found your beautiful girl of your dreams. How? First, unlike many other high-class elite companions, she has decided to feature her photo's with her face visible. And second, to give you the assurance that her photo's are real, O'Neill decided to feature herself on 2 third-party websites that offer a professional verification service. To read more about this, check out her Journal Blog: What You See Is What You Get (https://www.oneillsummers.com/verified-what-you-see-is-what-you-get/)
Given her above described diligence and exposure, please do not request additional photo's beyond what you can find in her gallery (https://www.oneillsummers.com/gallery-elite-independent-escort-netherlands/) or her forthcoming fan site (stay tuned!). Her beautiful face, pearly white smile and ocean blue eyes is your happy surprise when she walks into your presence … be prepared to be speechless!
Bookings
O'Neill is a high-end model and only reserves a dedicated amount of time for these exclusive appointments. To make sure you get the date and time exactly the way you want, it is recommended to book well in advance. You may try your luck with a last-minute booking, but this is not recommended.
You'd be surprised how often O'Neill receives messages from men that simple say 'hi', 'how are you?', 'what's up?' or 'do you have time tonight?' They chase O'Neill for bookings but remain vague about time and location. To avoid becoming a chat service for fakers, she systematically ignores these messages.
Instead, a class gentlemen introduces himself and is clear about his intentions: a date, an overnight or even a fly-me-to-you (FMTY) arrangement. He will 'sell' himself to her. He will kindly request her availability on a specific date, duration and location and will make O'Neill feel respected and highly valued. It is only with gentlemen like these that she will interact to plan for his perfect date and to make sure she is dressed and prepared to exceed his wildest dreams.
Therefore, the only way to request a booking with O'Neill is to complete her online booking form. This establishes a clear understanding and agreement between you and her with regards to date, time, duration and location. And just as importantly, this is how you can win O'Neill's interest and trust to accept your booking.
Constant back and forth emailing or texting, even or especially after she has confirmed the booking, is more indicative of a faker as opposed to an organised gentleman who knows what he wants. Although she hates doing it, O'Neill must respectfully notify you if your contact frequency is not sustainable given her limited time and the sad reality of fakers. You're likely not one of them, so please be prepared for your contact with her to be crisp and respectful and make sure that you are in a position to be clear about your desired meeting date, time, duration, location and preferences.
O'Neill will only accept bookings in 4- or 5-star hotels. No booking is agreed until she has had the opportunity to confirm the location with you.
Privacy & Discretion
In case you worry about your privacy, please be aware that O'Neill has a successful professional life, a loving family, many friends and a vast professional network to protect as well. As far as privacy and discretion are concerned, she and you are on a level-playing field with O'Neill making every effort that the limited time she makes available for bookings stays safely under the radar for both of you.
Although it is understandable that you may want to, booking O'Neill under an alias / anonymously is not possible. Please assist her with the minimal information she requires prior to accepting the booking or prior to the actual appointment. No information will be stored beyond the booking date.
You are both reaching into something that makes you both a little bit vulnerable from a privacy and discretion perspective. But this is also where the thrill, excitement and adventure is. If you happen to not be quite as adventurous, please be advised that this stuff is not sexy for O'Neill to discuss; she has long decided to not debate any of this and instead trust that classy gentlemen like you will understand that your mutual safety, discretion and wellbeing are of the utmost importance.
O'Neill actually finds that the slight uneasiness related to this makes it adventurous … the inquisitive desire coupled with lingering questions of trust builds the intrigue and puts her and you on the naughty edge which makes it such a thrill. For her, it makes the appointment that much naughtier and your intimate connection so much hotter.
Screening
An elite companion will never naively step into the door without first securing her safety. The class gentlemen O'Neill meets understand this. They realise that she makes herself vulnerable to have intimate companion dates with someone she hasn't previously met.
To assure O'Neill's safety and to gain her interest in meeting with you, she will need to apply a basic level of screening. She realises that your privacy and discretion are just as critical. Be assured that no information or details related to this screening will be stored beyond the booking.
This screening process is not negotiable. You want your dream girl; O'Neill wants to meet with trustworthy and caring gentlemen who she can be comfortable, compatible and most importantly … be safe with.
Appointment in a hotel:
The simplest way to have your first meeting with O'Neill is in an upscale hotel. All she needs is your last name and roomnummer so that she can call the hotel to be transferred to your room. A four- or five-star hotel will require that she give them your name for the call to be transferred to your room. As soon as they transfer her, she has the verification she needs.
Please note that O'Neill will require this verification before she will make her way to your hotel in order to avoid being stood up. For most predominant locations in the Netherlands, she will be able to then arrive within approximately an hour after this verification.
Appointment at your address:
If you do prefer that your first meeting takes place at your home address, she will need to have your LinkedIn or Facebook profile where she will look for two things: (1) a clear and recent picture of you so that she can recognise you at the door, and (2) that this is indeed an active account she can trust. Lastly, to finalise the verification process, she will need to have your telephone number which she will use to exchange a verification text message with you.
Additional information:
For Netherlands residents O'Neill may require some additional information if she has any indication that there is a higher risk of the two of you knowing each other. Pretty awkward to be in the same meeting rooms days after the booking, no?

Cancellations
Since O'Neill only reserves a select amount of time for these exclusive appointments, having a booking with her is a privilege you should take seriously. Of course, she understands that things happen outside of your control which may require you to reschedule or cancel the appointment. Just be reminded to limit her exposure to this as much as possible and consider a confirmed booking with her as something precious to be protected.
Cancel or change the booking >12 hours in advance
If you have one of those exclusive spots on O'Neill's agenda, you can cancel up to 12 hours in advance. In case you had to do this more than once, O'Neill will require a 25% pre-pay to confirm a new booking so she knows that you are indeed serious about spending time with her as opposed to keep tying up her precious time. Rest assured, payments to O'Neill will appear with a harmless, generic description on your account statement.
Cancel or change the booking <12 hours in advance
Things happen outside of your control which may require you to suddenly reschedule or cancel the appointment. You must know that O'Neill reserves this time specifically for you and will have made special arrangements to be available and will have started her preparations to look her best for you. Cancelling within 12 hours of the booking requires a 25% cancellation fee of the agreed upon rate; cancelling within 4 hours requires a 50% cancellation fee. You will receive payment instructions accordingly. Rest assured, payments to O'Neill will appear with a harmless, generic description on your account statement.
Payments
O'Neill will send you a booking confirmation with the total booking amount including her travel cost. She will ask that you confirm the details of your meeting. The payment will be done at the beginning of the date and is in Euro currency unless otherwise agreed prior to the appointment. Please make sure that you give O'Neill the payment without her having to ask you as this is not a charming thing to do on a date. Please give her a moment to verify the amount.
O'Neill offers you the option to pay cash or via banktransfer. Payments to O'Neill will appear with a harmless, generic description on your account statement.
Please understand that freeing herself up for longer bookings, while maintaining a successful professional career, takes a serious effort on her part and has a major impact in her work life. Therefore, for longer bookings, the following prepayments are required:
24 hours: 25%
48 hours or longer: 50%
In case you inadvertently need to change or cancel the booking, the prepayment will not be refunded. Instead, 50% of your prepayment will be maintained as a credit for a future booking with O'Neill.
In case you wish to spontaneously extend the booking beyond the booked duration, payment will be made at the beginning of the prolongation to avoid any confusion afterwards.

International Bookings
O'Neill loves to fly to you (Fly Me To You/ FMTY). She has broad international experience and is culturally astute.
International bookings require a bank transfer prepayment of 50% of the booking cost and 100% of the travel expense. Payments to O'Neill will appear with a harmless, generic description on your account statement.
The booking is only agreed upon when O'Neill has had the opportunity to confirm the hotel location and travel schedule with you.
O'Neill does not book any flights without having received the travel expense prepayment. In addition, she will not embark on the flight without having received the booking cost prepayment and the above listed screening requirement for an 'appointment at your address'.
When you cancel the booking, the booking cost prepayment will not be refunded. Instead you will maintain 50% of your booking cost prepayment as a credit for a future booking with O'Neill.
Domestic Travel
O'Neill will normally arrive by car or is dropped off by a driver. Please make sure that you give her parking instructions to maintain discretion for both her and yourself.
International Travel
The travel methods for international bookings will be discussed per occasion.
As a general rule, O'Neill will fly to you (FMTY) with a premium airline as opposed to a budget airline.
Flights of 6 hours and longer require a business class ticket. Flights between 1-6 hours require an economy plus ticket including a luggage allowance, unless you would like to be so generous to upgrade her to business class.
After an international flight, O'Neill will need to have the opportunity to prepare herself for the stunning first appearance she is known for. She'll take your breath away and your heart will skip a beat or two before it starts racing. A separate room booked in your name should be available to her when she first arrives. This room is maintained for the duration of your time together for bookings longer than 24 hours for short private retreats she may require.
Hygiene and Safety
O'Neill is all about her fitness and health and takes her personal care and hygiene very seriously. She expects that a client does the same: personal care and hygiene is a requirement for the date to proceed.
O'Neill has the right to abandon a date without refund in case personal care, hygiene and/or safety is in question. This includes but is not limited to excessive alcohol, drug use, not respecting 'no' for an answer when a client exceeds her boundaries.
Liability
By making a booking you accept full responsibility and waive your rights to hold O'Neill liable for anything that may arise from having or possibly not having the date. She can also not be held liable for any circumstances out of her control (force majeur). She will always keep you informed as soon as she possibly can.
All written and visual content is explicitly copyright protected. No photographs nor any of the copywriting on this website may be reproduced nor used in any manner. Violations will be fully researched and aggressively pursued by means of lawsuits under the jurisdiction of The Netherlands.



Glamour model, Dutch high class independent premium escort available throughout the Netherlands such as Amsterdam, Rotterdam and The Hague offering luxury elite companion services worldwide: Brussels, Dubai, Paris, Dusseldorf, or where ever you fly me to you.