When you're in love, the butterflies in your stomach make it that you can't get your lady out of your mind. Each time you're together, you tease your way closer to her to see how much further she will let you go this time. Your desires to explore her body, her touch, her lips and her curves are driving you crazy, but you don't want to overstep her boundaries! The thrill of courtship.
I love it when gentlemen make a booking with me and let me know how much they're looking forward to it. Some of them tell me that time seems to go slower because they can't stop thinking about our upcoming date and keep checking out my pictures on my OnlyFans account (onlyfans.com/oneillsummers) to see more of who I am and what I do. How cute is that?
My girlfriend experience is courtship on fast forward with us building up the chemistry and drive each other crazy with instant flirtatious looks knowing that mind-blowing intimacy and intense pleasure is up next.
But be forewarned, our sensual and romantic time will captivate your mind until we see each other again!
There is no better way to start a date than with dinner and drinks. I love to be your arm candy while we're on the town. We'll relax, make a genuine connection and get to know each other in a way that builds an indescribable sensual tension. As the dinner proceeds my flirtatious looks will make you undress me with your eyes multiple times over. It will take a good dosis of constraint to make it all the way to our final course!
In case you like, I can recommend one of my favourite places for such a lovely memorable dinner date.
It is such a treat to walk into the warm, calm and zen environment of a private or hotel spa (i.e. Okura Nagomi Spa, Conservatorium Akasha Spa). Being pampered with a relaxing duo massage, luxurious facial, manicure, pedicure, and body treatments. A warm pool, jacuzzi, steam room and sauna will make us thoroughly relaxed and recharged. With our blood circulation in optimal state, we'll both be uncontrollably sensually alert leading to unthinkable levels of sexual ecstasy.
I'd love to find out what your favourite spa location is for our time together or you can let me know if you would like a recommendation for one of my favourite places. Extreme heat guaranteed!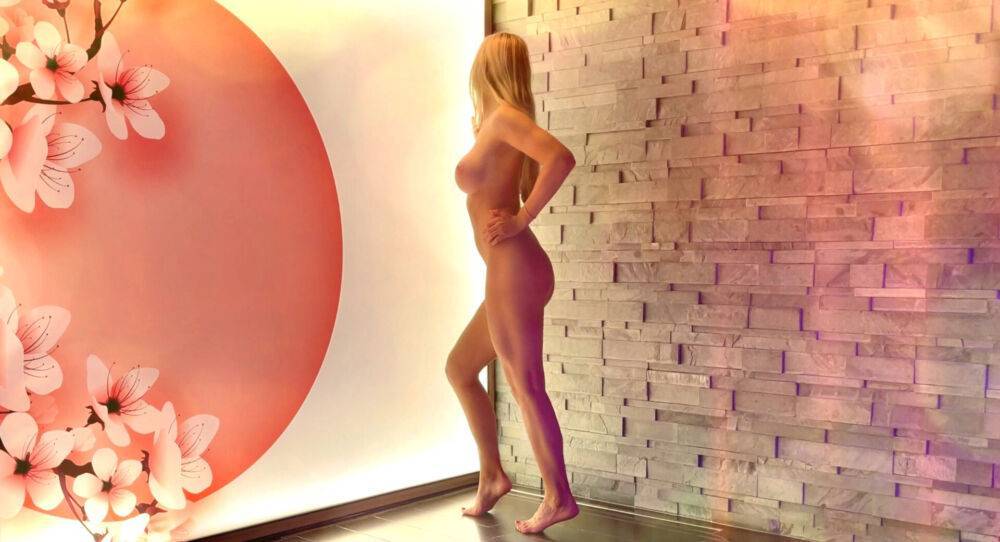 Discovering each other at a stimulating new destination … how much more adventurous can it be than travelling your way or hop on a plane together to an exotic location or bustling city? You'll quickly recognise that I'm culturally astute and internationally experienced by having lived and worked overseas. You and I will never forget the sensual get-away we'll have together.
Although I won't say no to another private jet experience, Train Me To You (TMTY) is the companion way to contribute to a more sustainable world. 😅 I'm in close proximity to the Thalys that can take me to Antwerp, Brussels and Paris or connect with the Eurostar to London. Or the ICE train for major city locations in Germany such as Dusseldorf, Cologne, Frankfurt.
[Here] you can find the link to my International Travel Companion webpage for further info.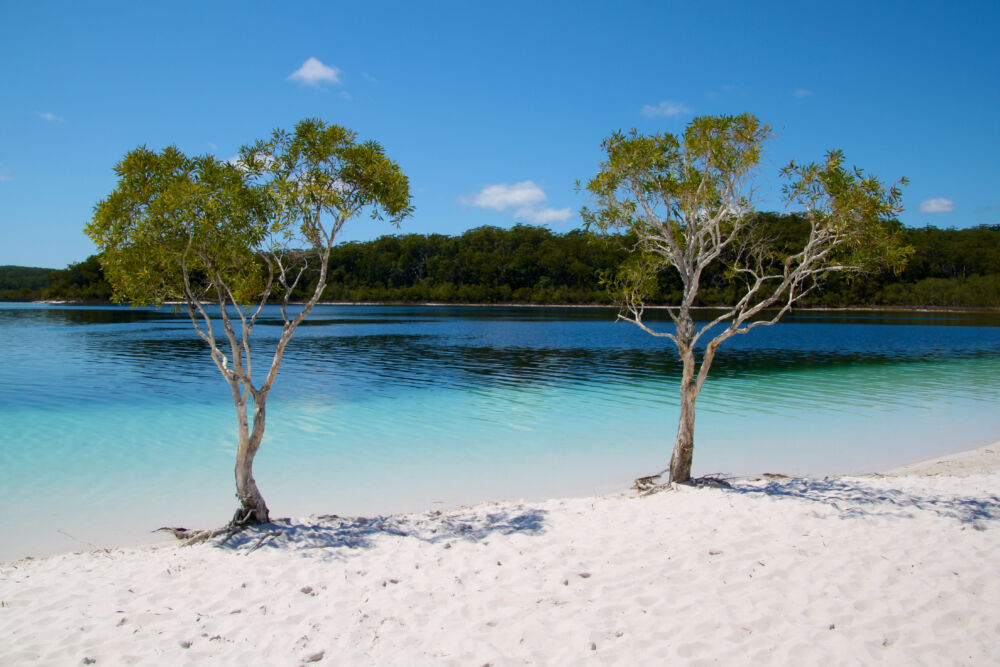 If somehow you can't make a booking with me yet or if you want to get to know me further, please subscribe to my 'Classy and Risqué' OnlyFans account at: onlyfans.com/oneillsummers
For more information including a sample, click here and here.
My premium incall high-rise apartment features a dedicated wellness-massage room with a professional height-adjustable heated massage table and warm towels to get you fully relaxed, any muscle tension relieved and your blood circulation improved. The long, smooth, gliding strokes that are both rhythmic and flowing, with just enough pressure to make them deeply relaxing yet not painful reveal my international 5-star hotel spa/wellness massage experience. A treatment designed to relax and sooth your body and mind and awaken your innermost arousal.
Available and included for incall dates.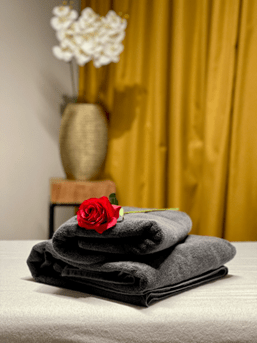 You'd be hard-pressed to find yourself an elite companion with a premium incall apartment featuring a professional heated massage table as well as an exclusive Tantra Chair, or sex sofa.
My handcrafted Tantra chair is the original Kama Sutra Divan, imported from the USA, designed the vastly enhance the love-making experience. It is simply a badass beautiful and functional sex furniture sofa that I proudly placed in front of the window in my high-rise apartment where the evening sun radiates a warm golden glow over our naked entangled bodies. This is where we enjoy new and exciting positions with ease and comfort for never-before attained sexual pleasure.
Check out the Tantra Chair videos from Zen by Design, pick your favourite positions and make a booking with me to discover them together.
Available and included for incall dates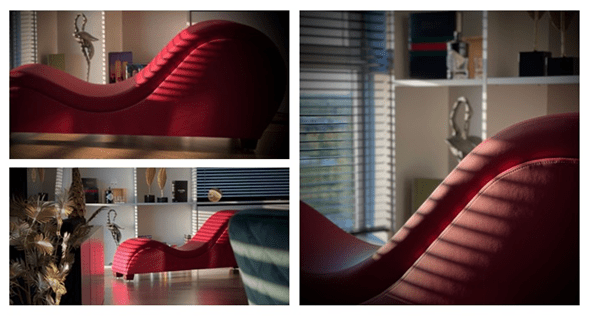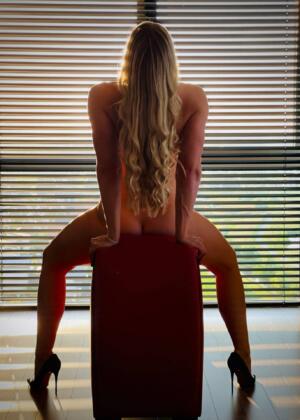 I love to dance, especially for you! In my incall premium apartment, I have advanced smart lighting and a premium audio system that instantly changes the scene and pumps out sensual music while you lounge on my living room sofa. If you book this in advance, I will even have a smoke machine and strobe lights ready to make this unforgettably sexy and a feast for your senses.
Smoke machine and strobe light surcharge: €50 (incall only)
Some couples are naturally more adventurous thrill-seekers; others may be in dire need to bring back the sizzle in their sex life. For the latter group, I wrote a blog some time ago, which you can read here: 'Bring back the sizzle into your sex life'
Regardless if you are looking for your next couple adventure or are indeed looking to renew your sex sparkle with your partner, I think I have just what you might be looking for.
This website has a lot of information about me, including photo's and video's so I won't try to convince you further why I think you may like to have me join you and your partner in the fun. If you are still not sure, perhaps subscribing to my onlyfans.com/oneillsummers channel gives you that last bit of comfort that I'm your dream girl for your ultimate threesome / trio sex fantasy.
I also think you will love my premium high-rise apartment featuring stunning panoramic views of the city on one side and the green countryside on the other side. We'll get acquainted on the oversized lounge sofa in the living room and cosy up together with a relaxing, yet sensory-boosting glass of sparkling champagne.
The apartment features a fully equipped modern kitchen where the three of us can prepare a lovely meal. I doubt however if we will stay focused enough to meet the listed recipe preparation time! Alternatively, the area offers an expansive list of delicious home delivery options.
Meanwhile, the apartment's premium sound system plays a sensual yet upbeat playlist with carefully curated songs. The sound follows you seamlessly everywhere you go.
The dining table boasts incredible sunsets and evening skies. Our rising sensual expectations will start to play out in flirtatious looks which will make us wonder what type of 'dessert' we're really preferring at this point.
The dedicated wellness room features a height-adjustable heated massage table where we offer each of you incredibly arousing four hand erotic massages. As a trained 5-star hotel spa/wellness specialist, I will help you give each other a deeply relaxing massage that turns every bit naughtier along the way. Imagine that … a 4-hand massage involving you and your partner together. We'll make sure no one is left out of the intense pleasure.
Our biggest challenge will be to decide where to go next. When we leave the massage room, sensual rays of coloured lights from the bedroom with its silk-sheeted oversized bed may draw us there. But the Tantra chair (or sex sofa) designed to support mind-blowing sex positions is a strong contender of our attention. Click here for more information about this out-of-this-world sex escapade we could have with the three of us. Some of these positions are a bit challenging at first and a little assistance is really nice. And don't underestimate how intensely pleasurable it is to have a third person take part of the action or with her hands free to touch and rub you and your partner while you are entranced in the act.
I'm starting to get aroused while I write this so I better stop by saying that I look forward seeing you and your partner soon. I love it when couples regain a love sparkle in their eyes when they have visited me. Maybe I should add 'Sex Therapist' to my virtues?
Couples date surcharge: €100 p/h
I'm known to appear with the breathtaking looks that make a man's heart skip a beat. I dress to impress, but what I love the most … to undress for sensory overload!
I have a varied collection of luxury brand lingerie with always something new to take your breath away with.
Some men like to see more than the lingerie set I carefully picked for our date. Let me know in advance if you would like me to bring a few extra sets to dazzle you with.
Lingerie Experience surcharge: €50
Mmmm … you sneaky naughty boy! You want to put your hands on a sexy nurse, an irresistible secretary, the tight ass and blouse-bulging breasts of a blond flight attendant, an innocent schoolgirl or a wholesome chambermaid? Or perhaps you want to be intimidated by a slightly dominant sexy lady in a latex catsuit? No worries, it will remain our racy secret. Tell me your fantasy and I will help you make it come true.
Here you can find my sizes:
Dresses: US size 8/10
Lingerie: US size M; Bra size US 34DD/ EU 75E
Shoes: US size 8
Haha … you think you can handle more than me by myself, huh? Well, let's see about that! I will arrange for one of my lovely girl friends to join in on the fun and double up on visual and physical stimuli. Or you pick another dream girl yourself to make your trio fantasy a memorable reality.
Outcall only
Each girl will charge her own rate
Skip this, guys! This is just for us ladies!
Whether you know that you have a strong lesbian preference or perhaps you want to discover your sexuality in this area further, I would love to get together with you. When it comes to lesbian sex, understanding and slowly exploring each other's highly concentrated pleasure-sensitive nerve endings is what makes it so out of this world. Your neck, mouth, collarbone, nipples and breasts, from rib cage to hips, your belly button, legs and toes, the soft area just above the crease between your buttocks and … hands down the winners … your irresistible clit and inner g-spot. Don't keep from probing your sexuality to its fullest but explore the fullness of your body together with me on a lovely Lesbian Experience date.
We will get acquainted while lounging in my living room with panoramic views over the city skyline. A glass of champagne will get us both at ease as we inch closer together. I'll start with getting your body and mind fully relaxed and soothed on my professional heated massage table with warm towels. From there we'll move to a silk-sheeted oversized bed. Sensual lighting and music follow us from one room to the next as we climax without constraints as if the world is ours alone. A warm soothing bath brings us back to our senses.
You feel the lustful desires but just have not yet found your girl or have only had a few disappointing sexual experiences that hold you back. That is nothing to be shy about. On the contrary, why is it reserved for men to be so excited about a virgin girl? I find it especially exciting when you book time with me when I know that I will be the first girl you will be intimate with. My personality will make you comfortable and at ease. My incall apartment is discrete and luxurious; yet offers a calming feel-at-home experience for the two of us. We can take our time on the oversized lounge sofa in the living room while enjoying a calming glass of wine or champagne and spend time getting to know each other.
I love seeing your reserved shyness when we slowly undress, taking it step by step, the surprise and lustful look in your eyes and the quick shivers in your body when I touch you places where no girl has yet touched you.
An intensely pleasurable massage on my height-adjustable heated massage table in my spa room will further calm your senses and help you take down your guards before we embark on our erotic journey that takes you to levels you never knew existed in the bedroom on my silk-sheeted kingsize bed.
Specify this service in your booking with me. It would be a shame to not know this in advance because we can make it particularly special. After all, it's your first time! I will make sure we take our time to get you relaxed and have you come out of your proverbial shell and spread your wing in the arousing world of intimacy and pleasure. The goal is not only to have you experience ultimate satisfaction while we are together, but to get you out there for that lovely lady in your future who will be so blessed to have you as her lover.
Premature ejaculation (also known as rapid or early ejaculation or premature climax) and erectile dysfunction are a struggle for more men than commonly assumed. It can be frustrating if it makes sex less enjoyable and impacts relationships. Men find it tough to bring these issues into a relationship. With many relationships regretfully deprived of talking about sex openly, it may make a man feel alone with his feeling of not measuring up. Being in an open unencumbered relationship helps to reduce the feeling of shame or inadequacy. A lack of confidence may even be one of the root causes to begin with. And so are stress, depression, unrealistic expectations about sexual performance or relationship problems.
Booking time with me isn't a miraculous physical or mental healing session but you can be sure that we will take our time, we can talk about it without judgement and you can be comforted that you don't have to impress me or meet some sort of performance standard. When we are together you are more than adequate.
Taking our time lounging in my premium high-rise apartment with spectacular sunset views enjoying a glass of champagne will set the scene for an unencumbered time together. You will recognise my 5-star hotel spa/wellness experience when you lay on the height-adjustable heated massage table and have every bit of stress and worry leave your mind and body one deep-tissue or sensual massage stroke at a time.
We will take our time. There is no rush.
If you can't maintain an erection long enough, we will seamlessly divert our attention elsewhere for a while. Trying harder is not an effective course of action. It only communicates that supposedly you're not performing.
If you typically ejaculate early, we will stage our time to prolong the chemistry and intimacy building, the slow touches and keep you edging in the intense arousal state nice and long without making it a focus point itself.
The net-out is this. When we are together you are not here to impress me. Be relaxed and ready to enjoy our time together. The more real we are together, the more relaxed, intimate and enjoyable our time together will be.
Specify this service in your booking with me and I will adjust our approach even if we don't end up talking about it further when we meet.
Podophilia is one of the most common and widely acceptable sexual fetishes. A foot fetishist is someone who gets turned on by the sight of feet.
But even men who themselves say that they aren't usually particularly into feet are naturally attracted to the curves and softness of my feet. They mention how my cute nail-polished toes are well arranged and appealing. They love how it feels when I rub the soft curves of my feet against their bodies and their rising phallic.
I love it when my feet turn you on so much that you caress them closely with your hand and mouth.
Foot fetish (receiving only).
No surcharge; preferably booked in advance.
BDSM is a variety of sexual practices involving bondage, discipline, dominance and submission. There are difference levels and scales. If your are looking for regular or even more advanced levels of BDSM services, I am not likely the right girl for you.
I do like tying you up, blindfolded and drive you wild with unexpected touches using a feather, hands, breasts and mouth. I guess you can call it BDSM Light where you alone are on the receiving end.
BDSM light (give) surcharge: €50; but must be booked in advance
The prostate gland is the G-Spot or sacred spot of a man. It makes the semen that helps sperm travel and survive. Massaging the small gland between the base of the penis and the rectum provides sexual stimulation.
With this service, I will slide a gloved finger into your rectum, then massage and lightly press on the prostate while also massaging your penis and scrotum.
Prostate Massage Service surcharge: €50; preferably booked in advance
Top-ranked on most man's sexual desires is to have their hard throbbing penis sucked by a willing girl who obediently looks him in the eyes. Talking about top-ranked … I dare to count myself right up there in driving men crazy with my oral stimulation that will make you quiver at your core.
But rather than just enjoying this incredible moment and experience the deep release, some men are pre-occupied with where they get to aim their release.
The underlying desire to cum on body (COB), cum on face (COF) or cum in mouth (CIM) seems tied to it being a sexual act of dominance and submission and should perhaps be seen in a similar context as BDSM and Golden Shower; the notion that humiliation turns some people on.
Bringing you to and over the edge with my mouth and receive your release over my breasts or ass is super sexy and standard included in your booking.
Taking it a step further to spray your cum on my face or mouth is something I will do selectively and is offered as a premium.
Cum on body (COB): included
Cum on face (COF): €150 each time
Cum in mouth (CIM): €350 each time
Following this service, I use LISTERINE® to rinse my mouth to eliminate germs and bacteria. I count on your support to not take this personally but instead recognise that I take my personal hygiene and health, as well as yours, very seriously.
A Men's Health article 'Why People Are Turned On By Golden Showers' published on January 2017 tells you that you are not alone in your interest in a pee show or piss play. It turns out about 9 percent of men are interested in urophilia.
Not often, but I do get the occasional request. Someone who requested this service told me that he found it a kick that someone who normally would be out of his reach (his words) would do that to him.
I guess water sports is a sexual act of dominance and submission and should perhaps be seen in a similar context as BDSM. Humiliation turns some people on. For others it might the taboo, or the visual of this act or they find body fluids in general a very erotic thing.
At one point, someone requested this service because it was important for his overall sexual happiness to at least have experienced it once.
Whatever your fancy, I'm happy to work with you on how you would like to be on the receiving end. I politely pass on requests in reverse order.
Golden shower surcharge: €150
Another sex activity prevalent on porn sites is rimming; the act of stroking and licking the anus. This is another sexual act that is not likely performed in many couple's bedrooms, yet it appears to be an emerging fantasy of men who see this online and request it from escorts / companions.
I'm often told how hot my ass is and I'm fine being on the receiving end of you gently stroking and licking me in the crease between my buttocks and on my anal pucker.
Apologetically, I do not offer this service to my guests in reverse.
The more something is a taboo, the more we gravitate towards it. Anal/A-level sex is a relative taboo in the area of sexuality. Chances are that you have watched some pretty arousing anal sex scenes online that have awakened your interest and possibly created a desire to experience this for yourself. Let's have some straight talk!
First, allow me to bring some reality in the mix. The women on the porn sites make it seem like anal sex is (1) common, (2) pleasurable and (3) something they are ready for on a dime.
Common
Anal play is not at all as mainstream in a couple's bedroom as the porn sites make us believe. Do not think that your partner is depriving you. That is unfair. If your relationship with your partner is like most, you sadly may not even talk about sex openly at all. Getting her opinion about anal play may be a far departure for many men.
Pleasurable
Make no mistake, anal sex is not very comfortable, even painful, at least at first for many or most women. Pay closer attention to some of the female pornstars and you will see that only a few can truly hide this. They scream louder in a compromised sensual way to hide the fact that it actually is uncomfortable or even painful.
Ready on a dime
For a woman to have somewhat enjoyable anal sex requires the right timing and time. Timing relates to the time of day in the digestion cycle. Let's just call it as it is: having anal intercourse is not a nice thing to do if a woman hasn't already emptied her bowels. Time relates to the careful process of slowly stretching the circular muscle for less painful penetration.
With all of this being the case, anal sex is not a thing for many women. Turning to an escort to fulfil your desire to experience A-level sex is understandable. I get it!
But remember, we are physically the same as all women. With few exceptions around, for most of us it is also uncomfortable and sometimes painful. Some of us are just more accommodating than others. Also, be aware that some escorts list services they do not fulfil at all or do it quickly in a lacklustre manner.
So, let's get to the point: do I offer this service?
Plainly, I offer anal sex under the condition that the fit, timing, and time is right.
First things first: fit. If you are oversized this will not work and I need to kindly decline. See it as a favourable dick-rating overall; just not for A-level sex.
My point about timing you read above. I'm a healthy woman with a regular digestive cycle and I can tell you that I'm usually clear the second half of the afternoon and evening, but you never know for sure of course. If the timing is not right, I will tell you and I need you to respect that. I will let you cry on my shoulder and together we can look forward for a better chance the next time.
So what about the point about time? If we agree to engage in anal sex together, you agree to work with me on a respectful and careful approach to stretch my circular muscle with lubricant and a sex toy to prepare for a calm and smooth penetration. You follow my guidance on how fast and deep you penetrate at first to get over the initial, most challenging stage.
Anal sex surcharge: €350 during one booking hour
Elite model, Dutch high class independent premium escort available throughout the Netherlands such as Amsterdam, Rotterdam and The Hague offering luxury elite girlfriend experience (GFE), companion services worldwide: Brussels, Dubai, Paris, Dusseldorf, or where ever you fly me to you (FMTY).